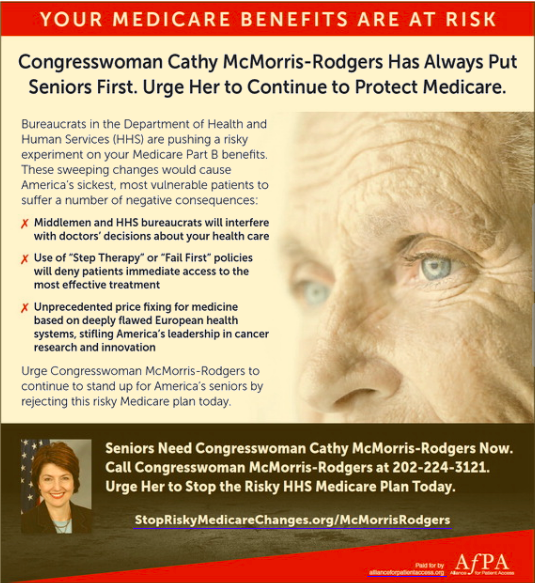 Dear Group,
Yesterday I posed this question:
Question: A paid opinion piece appeared in the Spokesman with McMorris Rodger's name on it some time in the month of January, likely two to three weeks ago. The substance was a critique of a recently offered bill in the U.S. House that would regulate pharmaceutical pricing. The author insisted the bill was needless meddling in the operations of the free market. Can anyone put their finger on that piece and send me a link? 
Just one reader, Jim Wavada, emailed me with the ad that appears above. That tells me that most readers did not notice it or find it memorable (a good thing in my estimation). By word of mouth I had the impression the ad was BY McMorris Rodgers, not a plea to call her about an issue, So much for the accuracy of verbal impressions. This is an ad from a special interest group paying good money to raise fear and worry among Seniors over an unspecified "Risky HHS Medicare Plan." 
So what is interesting about this ad? The "Alliance for Patient Access" claims it is "a national network of physicians dedicated to ensuring patient access to approved therapies and appropriate clinical care." However, at the very bottom of the "About" page in fine print is this: Financial support of AfPA and IfPA is acknowledged here, Click that link and one finds an impressive list of pharmaceutical companies, the real money behind what is clearly a political/lobbying endeavor on behalf of drug companies, NOT independent physicians advocating for the benefit of patients. 
The Alliance for Patient Access Home Page shows twenty-six for official looking logos of organizations I, as a physician, have never heard of. The impression is one of physicians working together in a valiant effort to make sure the government doesn't tamper with patients' access to innovative medications. Only in the fine print do you find the logos represent "web pages."
This ad, appearing in our local newspaper, likely cost something in the ballpark of $1500 to place. Even multiplied by tens or hundreds of other newspapers that money is still a pittance for drug companies to stir up angst among elderly readers and encourage them to call their Congresspeople. The Alliance for Patient Access is a cleverly disguised effort to push back against early efforts to rein in drug prices by promoting fear in the electorate.
In my estimation the Alliance for Patient Access fits right in with dark money non-profits like the Washington Policy Center and American Legislative Exchange Council, thinly disguised efforts to promote Republican/Libertarian policies.
Ads like these attempt to shape public opinion to suit the agenda of special interests. It behooves us to pay attention to the financial backing. They don't make it easy.
Keep to the high ground,
Jerry
P.S. Other readers pointed me to "Liberals dare Trump to back their bills lowering drug prices", an interesting article I had also missed. Thank you to those who brought my attention to it.