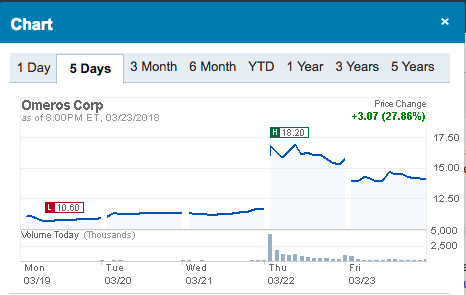 Dear Group,
The chart above is a screen shot taken of the stock price of Omeros, a small bio-pharmaceutical company based in Washington State. Last week overnight between Wednesday and Thursday its stock price jumped from 11.56 to 16.78 dollars per share, an increase of 45 percent. Wouldn't you have liked to already own that stock on Wednesday (and maybe sold some of it on Thursday)?
I guess this is the way the real money is made in the stock market. Institutional investors trading overnight had gotten wind of something about Omeros. When the markets opened to the little guy on Thursday morning the price had already popped. What happened?
This is where Cathy McMorris Rodgers and Paul Ryan come in. If you're pressed for time go to FoxBusiness for the source article, but if you want the expanded version read on. (Versions of this article  also appeared Sunday in the Spokesman and the Sandpoint Daily Bee.) First, some background:
The story of Omeros' overnight stock bump is the story of Omidria, the company's main cash cow drug. Omidria is a combination drug (see details in the P.S. below) used only in eye surgery, specifically cataract surgery. The surgeon injects the drug into the front of the eye to dilate the pupil and reduce inflammation and discomfort. Omidria comes in a single use vial. The company priced the drug at nearly $500 per vial. For two years, as is the custom (since Medicare is forbidden to negotiate drug prices with drug companies) Omeros was paid by Medicare as a "pass-through," i.e. Medicare paid the cost of the drug to Omeros. Without a "pass-through" exception like this one for Omidria, Medicare ordinarily says to the surgery center: "Here, you have this amount of money to do this surgery, everything included, you pick what you use." That's what Medicare usually does. So for two years cataract surgeons got to try out Omidria without thinking about the cost of the drug, i.e. the cost didn't come out of their pockets, their patients pockets or the pocket of the surgery center in which they operated. Instead it came out of our pockets, from dwindling tax revenues. (For perspective Medicare's "allowed" global fee amount to a hospital for a cataract surgery is $1,921.09.  For an ASC, it is $978.21. That's before geographic adjustments. It does NOT include the surgeon's "allowed" fee. Now consider the "passed through" price of Omidria is $500. That's half again the outpatient surgery center's global allowable. Drugs pricing is absurd.)
The idea is supposed to be the surgeon will learn in which patient's eyes the drug is and isn't useful, consider the cost of the drug, and balance the two in deciding what to use. The drug company bets that enough surgeons will believe the drug offers an advantage also hopes they will incorporate the drug into every cataract surgery while the price of the drug is not an issue. Omera tries hard to insure that use of Omidria becomes the "standard of care." Then when Medicare drops the "pass-through" payment there will be a lot of whining about not being able to afford to use this wonder drug.
We're all supposed to forget that the company Omeros got to name the almost $500 price tag at the beginning of all this, and we're supposed to forget that Omeros is a publicly traded company with a stock price and a lot of money spent on marketing and lobbying. (So far they haven't offered a penny of dividends.)
After two years we are also supposed to forget older, much cheaper drugs work just fine for the vast majority of cataract surgeries for dilating the pupil and suppressing inflammation.
Take note there is no free market for this drug. The original price is established by the company. Medicare is forbidden to negotiate the price. No patient gets to shop around even if they were knowledgable enough to do so effectively, and until the "pass-through" goes away, neither the surgeon nor the surgery center sees the cost or feels the pinch of the cost. Essentially, the system allows drug companies like Omeros to offer a "free" trial period in which to hook their surgeon customers, all on the taxpayers dime.
Omeros' "pass-through" payment expired the end of 2017. Its stock price slumped from $20 to near $10 over a couple months where we find it in the above graph last Wednesday evening. What's a CEO to do? Apparently, he or she goes to their "pro-business" Congresspeople to get a "rider" on a "must pass" bill like the Appropriations bill Trump signed last Friday. If a Congressperson is clever it is pretty easy to tuck away a provision to help out a campaign contributor in one page of text in a 2,232 page bill. Surely no one will notice. Hell, nobody will even bother to read all those pages, will they?
Actually, they will read it. FoxBusiness published an article entitled "Benefits of lobbying evident for small drugmaker" on March 24 from the Associated Press. Particularly considering the conservative source, it is well worth your time to read. McMorris Rodgers portrait is found at the top of the article.
According to the article McMorris Rodgers and Paul Ryan slipped this into the "must pass" bill at the last minute. You can read the pertinent section of the law here. It's on page 1949 and it's entitled "TITLE XIII—REVISIONS TO PASS THROUGH PERIOD AND PAYMENT RULES." To be fair, both Parties have a history of slipping little zingers into "must pass" bills, zingers that couldn't possibly get enough of attention of Congressional leadership to bring up, discuss, and actually have a separate vote.
Omeros spent just over $1 million on lobbying in 2017, up from $645,000 a year earlier as the company brought aboard two new firms to make its case to Congress and the Trump administration, according to lobbying disclosure records filed with the House and Senate.
The political money website Open Secrets shows that Omeros CEO Demopulos donated $39,600 in the 2018 election cycle to the National Republican Congressional Committee, the campaign arm of House Republicans. [some of which money will no doubt flow back to our district to defend CMR and smear Lisa Brown]
Federal Election Commission records show that Demopulos also donated $5,400 directly to Speaker Ryan's campaign on Aug. 31, 2017. [That's the maximum legal direct-to-the-candidate donation.] Demopulos gave $5,000 to Ryan's political action committee, Prosperity Action Inc., on the same day.
McMorris Rodgers defense from the FoxBusiness article:
Nate Hodson, a spokesman for McMorris Rodgers, said she pushed the measure 'to provide patients across the country access to safe, innovative, life-changing drugs.' 
Perhaps her heart IS is the right place on this, but even if it is, this rider of hers and Ryan's doesn't smell right considering the circumstances. There is NOTHING about the lauded "free market" in this rider. It IS "pro-business," though, a specific few businesses graced with $26 million of our tax money over ten years.
From another source, The Northwest Arkansas Democrat Gazette. (Rated "Center Right" by mediabiasfactcheck.com) [Bold is mine.]:
This provision is the correct policy, was approved by both Republicans and Democrats involved in writing the bill, and was included at the request of members of our conference," said Ryan spokesman AshLee Strong. "To suggest any other reason is not only false but absurd and insulting.
Sorry, Mr. Paul Ryan, it may be insulting, and properly so, but it is NOT absurd.
This in a time when the public is fed up with drug prices… You choose for Ryan and McMorris Rodgers. Are they hapless victims of their own good intentions or are they trying to pull a fast one to satisfy a campaign contributor? I don't see another option and I like neither of the alternatives.
Keep to the high ground,
Jerry
P.S. Omidria is a combination of two drugs, phenylephrine 1% and ketorolac 0.3% . Phenylephrine has been around many, many decades, ketorolac more than a decade. To be sure, injecting these drugs into the eye is a new use. Getting that approved by the FDA no doubt required expensive testing to prove safety and efficacy, but these are NOT new drugs.