What does it mean for our region?
When convicted felon and retired General Michael Flynn and his ReAwaken America Tour came to Post Falls in September peddling Christian Nationalism and election denial it posed a dilemma: highlight it or ignore it? After all, there were a number of local Republicans peddling the same sauce at the same time (Bob McCaslin, candidate for Spokane County Auditor, for example), but none of those peddlers announced they were attending Flynn's show, nor, as far as I know, did any of them appear on stage with Flynn and company during their two day Post Falls departure from reality.
That local/regional Republican political calculus must have turned the corner, however. Sensible people should take notice. The Kootenai County Republican Party recently announced they are bringing in, as their keynote speaker, an even more prominent insurrection promoter and election denier than Michael Flynn, not just for a monthly meeting, but for their February 11 Lincoln Day Dinner to be held at the Coeur d'Alene Resort.
Northwest Georgia's U.S. Rep. Greene's recent comments delivered at the New York Young Republican Club about her role in the January 6th attack on the Capitol, as reported in the very conservative New York Post, are beyond the pale:
"I want to tell you something, if Steve Bannon and I had organized that, we would have won. Not to mention, we would've been armed."
Hearing that, I cannot get out of my mind the image of a man carrying a Confederate Battle Flag in U.S. Capitol. Abraham Lincoln, were he to hear Greene's words and look down on the Kootenai County Republicans at their Lincoln Day Dinner in February, would be astonished and dismayed at the turn of events. Members of the Party that he founded to oppose the spread of slavery hosting a firebrand speaker from Georgia—a woman who plainly states her support for a second insurrection—that she would have done a better job—would be gut-wrenching for the dinner's namesake.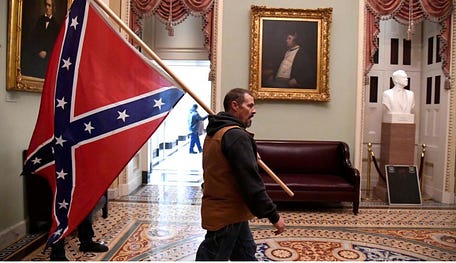 Image matters. That the Kootenai County Republican Party is hosting a woman who claims her armed insurrection would have succeeded should be found revolting by anyone remaining among local Republicans who respects the rule of law and the principles over which the Civil War was fought and won. Lack of repudiation from remaining local Republicans not allied with the extremist leadership of the local party over this choice of speaker is a sign of rot.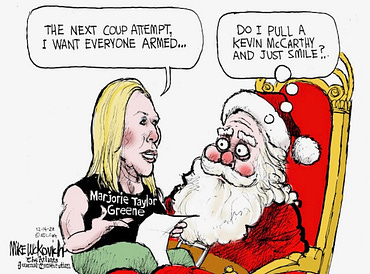 Where does this woman, Marge Greene, come from? What is her origin story? She wishes to portray her credentials as those of a successful business woman who worked her way up the ladder. The truth is closer to an entitled rich girl seeking her niche by exploring the world as a serial "True Believer" in right wing Christianity, the redemptive value of bodybuilding, and immersion in and espousal of QAnon's whack-o cesspool of fringe conspiracy theories. A lengthy article in the January/February 2023 issue of The Atlantic titled "Why Is She Like This?", subtitled "On the ground in the Georgia congresswoman's alternate universe," is well worth the time investment to click and read in its digital form.
Sadly and alarmingly, in the end, Marge Greene is probably a fitting speaker for the current local/regional Republican Party leadership to choose for their signature annual celebration, the Lincoln Day Dinner. One can only hope that any remaining reasonable Republicans will find the leadership's choice a step too far.
Keep to the high ground,
Jerry
P.S. Imagine for a moment the furor that would ensue among local Republican mouthpieces if a local Democratic organization dared to invite Alexandria Ocasio Cortez to speak—and AOC is advocating working within government, NOT for violently overthrowing it.
P.P.S. "The True Believer" by Eric Hoffer, often referred to as "the longshoreman philosopher", published in 1952 and referenced above, is key to my understanding of the serial fanaticism of the type Marge Green represents. I read Hoffer's work a half century ago, but I often return to its insights on fanatics and mass movements. Wikipedia offers a good summary.