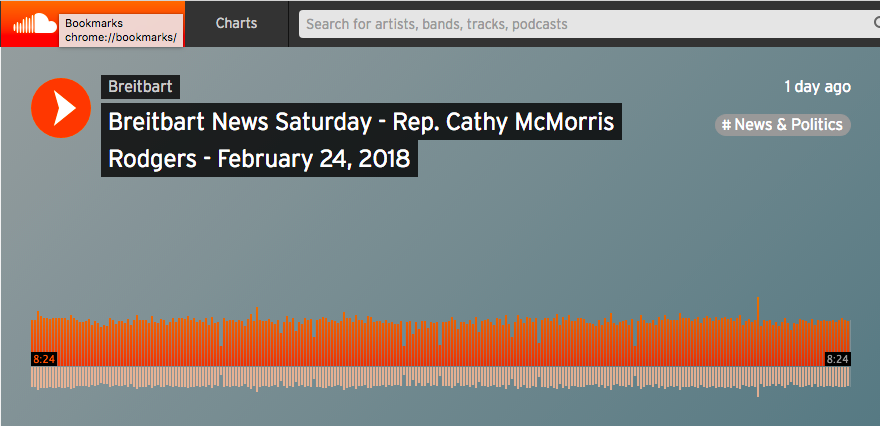 Click here to listen. I have posted this before. It is a recording of McMorris Rodgers speaking with a Breitbart reporter at the Conservative Political Action Committee (CPAC), the Republican/Libertarian lovefest last February. 
Dear Group,
I wish I could play the recording posted above as Exhibit One for every undecided or disconnected voter in Washington State's Congressional District 5. The soundtrack is McMorris Rodgers among friends. At twenty seconds she breathlessly declares Trump's speech at CPAC, "Excellent!" Then she launches into:
What is most exciting to me right now is the momentum that is building again, that we're seeing some results on Capitol Hill whether with the Tax Bill, the repeal of the Individual Mandate, opening up ANWR. It's building the momentum that we need in order to tackle some of these other big issues that we want to heading into 2018 and really rethink the federal government from top to bottom, restore…ah…some accountability and make sure that these agencies and the programs are run efficiently and are accountable to hardworking taxpayers. 0:21-0:54 seconds [Bold is mine.}
Note the congressional actions that exemplify the momentum that excites McMorris Rodgers. "The Tax Bill, the repeal of the Individual Mandate, opening up ANWR." This is the woman who claims to represent the interests of the taxpayers of CD5 in the U.S. House of Representatives? 
Proud of the Tax Bill? The Republican/Libertarian Tax Bill, in spite of McMorris Rodgers' tireless efforts to characterize it as "money in your pocket," is losing popularity as voters realize that eighty percent of its tax reduction goes to the already wealthy and to corporations, as voters realize the personal tax cuts are uncertain, and, worse, they expire while the giveaway to the wealthy is permanent, as voters begin to understand the 1.5 trillion dollar addition to the national debt over ten years, as voters understand that whatever dollars they may gain will soon melt away in Republican efforts to dismantle the social safety net.
Proud of the Repeal of the Individual Mandate? The average voter with a life needs a translation. McMorris Rodgers is excited about this repeal because it is a substantial blow to the function of the Affordable Care Act. McMorris Rodgers was a vocal supporter her party's American Health Care Act (AHCA), the one that dramatically failed in the Senate on John McCain's (R-AZ) vote. The AHCA was an attempt to return health insurance to the days of rampant medical bankruptcy, to the days of working people neglecting their diabetes in favor of putting food on the table. Their AHCA was so deeply unpopular it had approval ratings among the general population in the twenty percent range. What McMorris Rodgers is proud of with the repeal of the individual mandate is that what she and her Republican colleagues couldn't repeal outright they have at least managed to wound. They are proud to damage a social program rather than work to improve it.
And finally, she's proud of "opening up ANWR." I've been surprised how many people I've talked with who draw a blank when I say "ANWR" (usually pronounced An-whar). It seems that many folks who are very proud and protective of our national park system are only vaguely aware of the Arctic National Wildlife Refuge. The Arctic National Wildlife Refuge is home to countless species. Among them is the Porcupine Caribou, whose calving grounds are ground zero for oil exploration. A place of breathtaking beauty, situated as it is in northeast Alaska, it is infrequently visited and, I suppose, out of the mind of most Americans. Since the 1970s oil companies have pushed to open ANWR to oil exploration and drilling. There was a brief lull after the massive Exxon Valdez oil spill in 1989, but Republicans and oil companies are patient and persistent. It's about money. It's about more oil in a time when, thanks to fracking, we have ample oil, in a time when we need to transition away carbon fuels to avoid eventual disaster. Now, of all times, now McMorris Rodgers is proud to finally ram through violation of one of the last pristine places. For me, McMorris Rodgers' glee at the "opening up" of ANWR is emblematic of the twisted priorities of the Republican Party.
If the Tax Bill, the repeal of the Individual Mandate, and opening up ANWR are examples of Republican momentum McMorris Rodgers finds exciting, just imagine how much more she and her Party want to dismantle and liquidate and then award the proceeds to the already wealthy. 
Keep to the high ground,
Jerry
P.S. Take note who this unguarded interview is with. McMorris Rodgers apparently feels she is playing to a friendly audience. She is talking with a Breitbart reporter. Breitbart was, until recently the low rent, alt-right mouthpiece of that great moral beacon, Steve Bannon.  Breitbart was also the stomping ground of Milo Yiannopoulos. He was ousted from a speaking engagement at this same Conservative Political Action Committee gathering after youtube videos surfaced of Milo condoning pedophilia. That McMorris Rodgers, a woman who poses as a devout Christian, even allows an interview with Breitbart, is a statement of personal debasement. Instead, she is obviously comfortable here. She knows this is a select audience living in its own media bubble. She feels confident that most independents won't be found wandering in this fetid swamp of the alt-right.