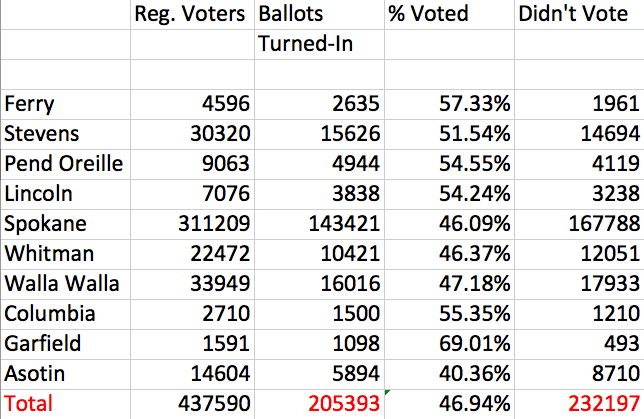 Dear Group,
Here is the take-home before dwelling on the details: 205,393 registered voters in Congressional District turned in ballots in the August 7 Primary Election. 232,197 registered voters did not bother to vote. Among those 232,197 non-primary-voting registered voters, there are many Democrats who tend only to vote in presidential election years and many disgusted Republicans who can be convinced over the next seventy-two days to cast a ballot by November 6th.
The obvious practical purpose of the Primary Election, in cases where there are more than two candidates, is to chose who advances to the General Election in November. (Washington and California are the only two states using this "top two" or "jungle" primary.)
The Primary Election serves a second purpose. It is a large (but very non-random) poll that speaks to electoral strategists of possibility. State and federal strategists from both Parties have looked at the Primary numbers in eastern Washington–and they all see possibility in those 232,197 non-primary-voting registered voters. The board is prepared and it is game on. The wild card is the energy of unpaid volunteers.
More votes in the Primary beget organization and money as applied to the General Election. The "wave" analogy is apt. There is a wave building all over the ten counties of Congressional District 5. It has been many years since there has been a Democratic challenger for nearly every seat in every State Legislative District (3,4,6,7, and 13) that overlaps with U.S. Congressional District 5. (District 13, overlapping Lincoln County from the west [part of CD5] is the single exception and only for an unchallenged State Senate seat).
The numbers from the Primaries are attracting attention in places like Legislative District 6 where Jessa Lewis, Kay Murano, and Dave Wilson, all thoughtful, energetic Democrats, look very competitive. (District 6 is a weirdly shaped district drawn to nibble at Spokane from the west, north, and south.) Then there's District 4, east and Northeast of Spokane, where Matt Shea looks more like a wingnut every day, and Ted Cummings and Mary May, two intelligent, reasonable, upright Democrats are gaining strength. Up in District 7, the vast northeast, Karen Hardy, Randy Michaelis, and Mike Bell are offering good reasons for Democrats to step out the shadows and vote. All of these good people offer possibility, team effort, and boots on the ground that eastern Washington hasn't seen in years. Here's the link to a great map to show you all these territories and how they overlap. 
You can slice and dice the Primary Election results until you turn blue (or red), but those results, with 232,197 registered voters sitting out the Primary speak of possibility. Who are these people who didn't vote? Let's get out and have a conversation with them.
Keep to the high ground,
Jerry
P.S. Ballots are tallied by county in Washington State. Fun fact: Of the ten counties in U.S. Congressional District 5 county borders are shared with CD5 in every case except for the western border of Walla Walla County. That means some few voters captured in my spreadsheet above in Walla Walla county cast there ballot in U.S. Congressional District 4 [between the incumbent Dan Newhouse (R) and Christine Brown (D)]. 
P.P.S. If you like numbers I recommend a smartphone app "WA State Election Results" you can search for and download for free. https://results.vote.wa.gov/results/current/ , the WA Secretary of State website offers the current Primary numbers. Under the "Research" dropdown menu on that page are data for years of past elections.