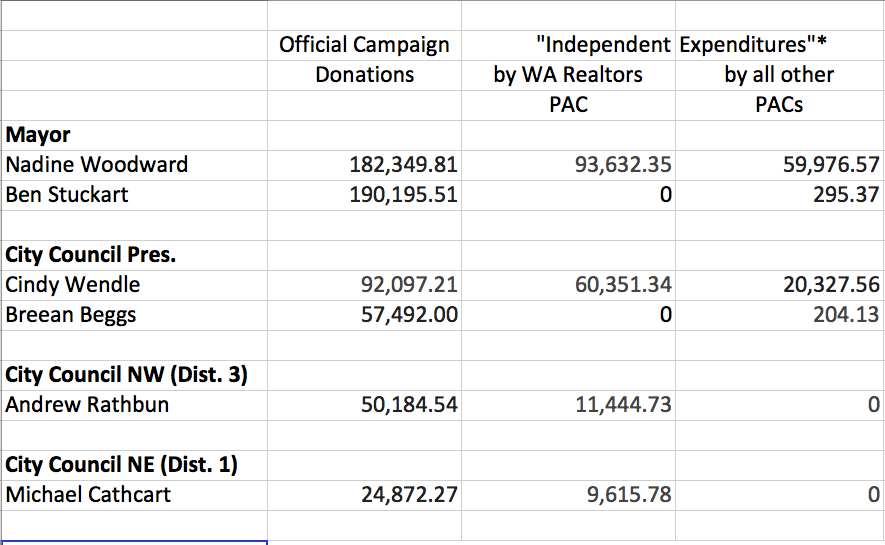 Dear Group,
The "Independent Expenditures" by WA Realtors PAC stand out like a monstrous sore thumb. As of August 22, 2019, publicly available reports at the Washington Public Disclosure Commission show the WA Realtors Political Action Committee (WA RPAC) has already spent $175,044.20 in support of four candidates for positions in the City of Spokane municipal government, specifically, Woodward, Wendle, Rathbun, and Cathcart.
This is a Citizens United-enabled effective 50% addition to the campaign coffers of these four candidates. (Before the Citizens United Supreme Court decision of 2010 such expenditures were regulated and limited. Click the link for explanation.)
Let's first look at where the WA Realtors PAC money comes from and where it is spent.( In a later I will try to address why WA RPAC is spending so much money on mail and internet in favor of these candidates.)
A spreadsheet of all the donations made to the WA Realtors PAC can be downloaded from the WA RPAC's listing on the Washington State Public Disclosure Commission's website. Working with that spreadsheet it is easy to isolate all the contributions made to WA RPAC from Spokane and Spokane Valley residents. Those donations total $57,911.50. Well, that's interesting. That means $117,132.70 of the money spent by WA RPAC to influence the City of Spokane Primary municipal elections came from outside the region. That outside-Spokane-and-Spokane Valley money is a quarter of the total amount of direct campaign funds spent on the primaries by all the mayoral, council president, and councilperson candidates combined ($487,669.94 according to the Spokesman).
If the WA Realtors PAC had the best interests of the businesses and workers of Spokane in mind one might expect the PAC would spend their $175,044.20 supporting local Spokane businesses. According to filings publicly available at PDC.org, every penny of that $175,044.20 was spent in Denver, Colorado, with a company called Access Marketing. Every penny went to buy "Online Ads" and "Direct Mail" with that Denver company. Not a cent went to a Spokane company or a Spokane worker. That's what the Washington Realtors PAC thinks of Spokane business and Spokane workers..
Takehome message: The WA Realtors Political Action Committee is using money from elsewhere and they spending it elsewhere in an "independent" effort to buy the Spokane municipal elections for Woodward, Wendle, Cathcart, and Rathbun. Why is outside money trying to buy the Spokane elections? What does this PAC think it is buying? Who controls this PAC? Topics for another day.
Keep to the high ground,
Jerry
P.S. Of that roughly $58,000 from residents of Spokane and Spokane Valley $36,995 came in donations of $35 each from 1057 of the roughly 2000 dues paying members of the Spokane Association of Realtors (SAR). Mostly these are local realtors who simply check-marked the "donate $35 to RPAC" button when they renewed their memberships. Many had no idea they would be supporting a tight slate of Republican candidates for these nominally "non-partisan" positions.