A Time for Embracing Our Diversity
The details trickle in from yet another mass shooting. Five people dead and at least eighteen wounded Club Q in Colorado Springs, people out for an evening having a good time. The shooter was taken down by a quick acting military veteran who was at the show with his wife, daughter, and friends. His daughter's boyfriend was among the five victims. So far we know very little about the shooter, the deranged man who must have imagined that wholesale killing of innocent people was a righteous act. Of one thing we can be sure: he didn't spring from the womb with killing innocent people as a goal. He acquired this goal from the society in which he was immersed, a social milieu from which he gathered that the people he was about to kill were somehow wrong, evil, subhuman, a threat to him and to the society he may have sought to protect.
This coming Sunday November 26, 2022, at 10:30 AM at The Cathedral of St. John the Evangelist, 127 E. 12th Ave, Spokane, many will attend the celebration of life of Katie Thew, a 22 year old Spokanite who died recently, in part from the effects of some of the same social messaging as, it is fair to assume, conditioned the Colorado shooter. Katie's obituary speaks volumes.
Katie Thew (they/them), age 22, of Spokane, WA, passed away on October 6, 2022, in Redlands, CA. Katie was born in Chicago, IL, to Drs. Pam Kohlmeier and Stephen Thew, and eventually moved to Spokane in 2005, where they lived most of their life.

Katie was an amazing human who identified as non-binary, queer, and disabled. As a young adult, Katie became a compassionate advocate for LGBTQ+ individuals who lived with disabilities like themselves. They helped to teach us how actions and words (often unintentionally) inflict pain on members of the transgender, queer, and disabled communities. As a student at the University of Redlands, Katie majored in The Psychology of Trans Disabled Healing through the Johnston Scholar program. They also led Defiant, which promoted the rights of disabled individuals on campus. Katie served as an intern for the Pride Center and was an advocate for LGBTQ+ rights. Katie's college experience included studying abroad in Argentina. Katie graduated from St. George's School (SGS) in Spokane and was active in the Outdoor Club, Community Service Club, Varsity Baseball, and Cross Country, and performed in many drama productions. At graduation in 2018, Katie earned SGS and International Baccalaureate diplomas, in addition to the Head of School Cup for their commitment to scholarship, athletics, leadership, service, and the arts.

Growing up, Katie was a fireball with boundless energy, fearlessness, and full of compassion. They had an abundance of creativity, a deep and thoughtful intellect, a great sense of humor, and a radiant smile. In the last couple of years, Katie's fire began to smolder due to the worsening of their chronic, debilitating pain caused by hypermobile Ehlers-Danlos Syndrome. They also battled constant headaches and severe depression. Sadly, we witnessed how ill-equipped our healthcare system was to handle chronic pain, in addition to mental illness and the crisis that followed. While we are thankful Katie is now at peace without pain —this loss is hard. But Katie was deeply loved by their many friends and family. They were so fortunate to have shared true love and understanding with Casey, the love of their life.

Katie's pain was magnified by many of the hurtful actions that are imposed by society on the LGBTQ+ community. Sadly, the Christian community can often be harmful and derogatory to this at-risk group of people. Rather than heartfelt outpourings of love and genuine acceptance, there are often judgmental actions and words, inflicting deep emotional trauma. Jesus taught the importance of unconditional love —and it is especially important to extend that to society's most vulnerable individuals. The exceptionally high suicide rates among the transgender community highlights the vulnerability of this community. As an overall awesome, trans, queer disabled individual, Katie experienced judgment, suffered deep emotional trauma, endured chronic pain, and ultimately ended their own life. Katie left a spark with each of us and now we must grow that spark, seeking to advocate where Katie left off. No more hateful words or actions. No more inflicting pain on those who are hurting. Katie is leaving a legacy of genuine love and acceptance —it is up to us to grow that spark into a torch and pass it on.

Katie is survived by their partner, Casey Holt; parents, Dr. Pam Kohlmeier and Dr. Stephen Thew; siblings, Michael Thew, Jocelyn Thew, and David Thew; grandparents, Dodie Thew and Dr. Ron Kohlmeier; as well as many aunts, uncles, and cousins. We are truly thankful for Katie's life and the legacy they passed on to each of us. Your family loves you Katie, and we are so proud of you.

A celebration of life for Katie will be held Saturday, November 26, 2022, at 10:30 AM at The Cathedral of St. John the Evangelist, 127 E. 12th Ave, Spokane, WA 99202, and there will be a reception following the service in the Great Hall at that same location. The family desires for those attending to wear colorful attire in symbolism and remembrance of the LGBTQ+ community and for an amazing life of advocacy that was lived by Katie. In lieu of flowers, contributions in Katie's memory may be made to support LGBTQ+ youth in Spokane at Odyssey Youth Movement at http://odysseyyouth.org.

The Neptune Society of Spokane is the funeral home facilitating the arrangements for the Thew Family.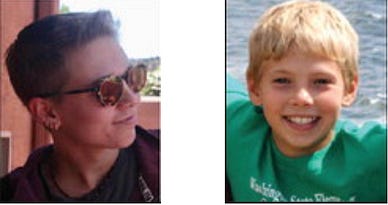 As our families gather to celebrate Thanksgiving tomorrow, let us remind ourselves that we are, all of us, people worthy of true Christian kindness—instead of judgment and condemnation—especially judgement, condemnation, and fear for simply being different.
Keep to the high ground,
Jerry
P.S. There is a concerted and, one might argue, ultimately deadly effort by Republicans, particularly some motivated by twisted Fundamentalist Christian doctrine, to block efforts to encourage gender inclusivity in the public schools. Locally, this twisted faction is drumming up followers to focus on the Central Valley School Board—opposing the gender inclusivity teaching that might one day spare families the pain of losing a loved ones like Katie and the victims of the Club Q shooting to socially-fueled hate. They will succeed in their opposition to gender inclusivity if the rest of us remain silent. It is time for us, Christians and secularists alike, to stand up for the values that Jesus preached. That story is reserved for another day.